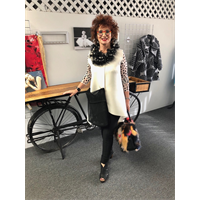 Shirley's Closet has been forty years in the making! From Liverpool in England, I was inspired by my best friends mother, Celia Phillips who was one of the first women in Liverpool to own a gown shop! The prices of the garments were so expensive that only Lords and Ladies and extremely wealthy people could buy their clothes.

In and out of retail with an ongoing passion for fashion, I came to America and subsequently met my husband Lou Shapiro, who was a graduate from the Fashion Institute of Technology in New York.

His sales agency represented European & American textile manufacturers. His knowledge of fabrics and style is something that is second nature to Lou.

We set up from scratch a thrift store for a local charity which grew and raised a lot of money for that charity. Over three years later with an urge to fulfill my lifetime dream of owning my own store and helping people purchase beautiful clothing for realistic prices, Lou encouraged me and Shirley's Boutique was born.

I want you to feel as welcome as if you are coming into my home. I want you feel a part of the Shirley's Boutique family. Let me be your clothing matchmaker!

Come visit and share a cup of coffee, a glass of wine, cookies and browse. Our love of fashion and the desire to make everyone's experience with us a pleasure, we plan on being in your lives for a long time.


"There is new guy in town that just opened a new clothing Boutique.  Their new store Shirley's Boutique at the dividing line of Palm Desert and Rancho Mirage on Hyw 111.  They have a great staff, Shirley is the best in helping put outfits together for you and the warmth of this type of store is fantastic."  

Yelp review